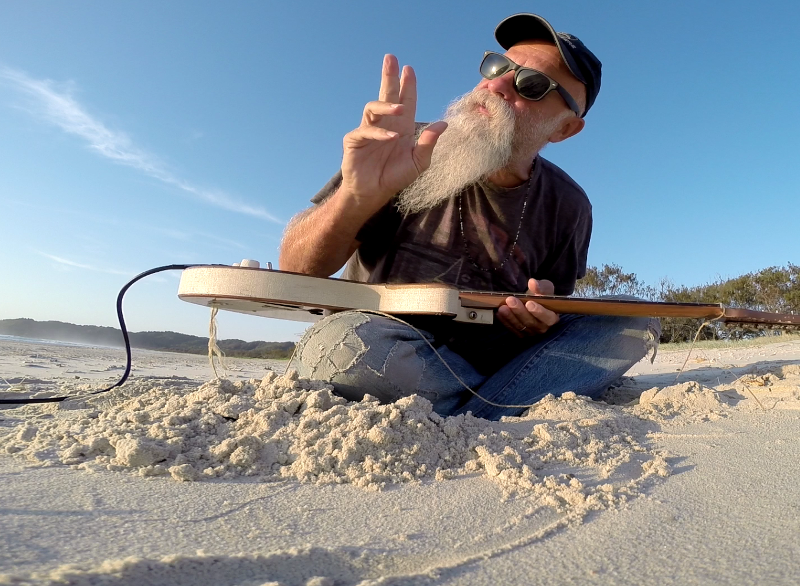 HebCelt's 25th anniversary celebration is sure to have everyone dancing into the night with confirmation today (Thursday 30 January) that Seasick Steve will be one of the headliners.
Seasick Steve will top the bill on the closing night of the four-day event, which will run from 15-18 July in Lewis and Harris.
Steve will include Stornoway on his UK and European tour this year as he heads out on the road with his collection of amazing guitars and his drummer 'Crazy Dan'.
He said: "'We rock. That's what we do. When I see a field full of people, they're just with us and ready to get down in the mud (sometimes real mud!). We love it, and we love them."
HebCelt has already announced that Scots rock giants Texas will headline Friday night at the milestone festival. Other acts confirmed so far include Tide Lines, Julie Fowlis, Trail West and Dual, with others yet to be unveiled.
HebCelt director Caroline Maclennan said: "This is another major coup for the festival. Seasick Steve is an internationally renowned musician with a huge following.
"We are thrilled he will be joining us in Stornoway to mark our 25th anniversary in style."
Seasick Steve has come a very long way in 14 years since he burst into the public consciousness with his amazingly raw, powerful emotional performances on TV, becoming a household name overnight.
It is those astonishing and engaging live performances that have turned Steve and drummer Dan Magnusson into such a powerful force, both Iive and on record, selling over 1 million albums and selling-out venues all over the world in the process.
Steve is having the time of his life, and it's the energy of putting new songs on record and the electricity of playing live that continue to drive him. He just keeps winning fans everywhere he goes.
Also confirmed today for HebCelt 2020 are Skipinnish, RURA, Kinnaris Quintet, Damien O'Kane & Ron Block, Martin Harley & Band and Còig.
Skipinnish, who formed in Tiree in 1999, headlined HebCelt in 2018 ahead of their 20th anniversary which included a flagship summer Highland birthday party in Inverness in front of 4,500 fans.
The band's dynamic performances have rocketed them to the top of the Scottish music scene and led them to be named Live Act of the Year at the MG ALBA Scots Trad Music Awards 2017.
The band said: "We are absolutely delighted to be returning to HebCelt in July to join in this fantastic festival's 25th anniversary celebrations. It is one of our very favourite festivals to be part of with the HebCelt team being so well run and welcoming and with audiences being so incredible.
"The last time we played HebCelt, the reaction from the crowd was unbelievable and we cannot wait to return."
The multi-award winning Scottish folk band RURA are one of the most exciting bands on the Scottish folk scene. They have been performing together for nearly a decade and have released three acclaimed albums, most recently 'In Praise of Home' in 2018.
Kinnaris Quintet, who mix new compositions with traditional Scottish and Irish, Bluegrass, old-time and classical music, burst onto the scene in 2017 and released a much-anticipated debut album 'Free One' the following year.
The female players from diverse geographical and musical backgrounds gravitated from playing with other outfits to forming their own band and finding their own sound. All accomplished musicians in their own right, their collaboration caused much excitement in the music scene even before they started playing or recording together.
Damien O'Kane, from Coleraine and Ron Block, from California, are regarded as two of the greatest exponents of the banjo. Their collaboration created their own genre of music they call 'banjophony' which is also the title of their debut duo album released last year.
Damien has had two releases nominated for best album in the BBC Radio 2 Folk Awards, while Ron, who has performed with Alison Krauss & Union Station, has 14 Grammy Awards and six International Bluegrass Music Awards to his name.
British guitarist and songwriter Martin Harley has created a deep impression on the acoustic blues roots and Americana scene with his last two Nashville recorded albums. He was ranked Number 16 in the Total Guitar magazine's 2018 world's greatest acoustic guitarist poll and in the same year was nominated as Instrumentalist of the Year at the Americana Music Association UK Awards.
High-energy Cape Breton outfit Còig are an exciting Celtic supergroup made up of four accomplished multi-instrumentalists. Last spring they made their debut UK tour which had to be extended due to demand. They released their fourth album 'Ashlar' in March last year and their credits include a Canadian Folk Music Award, a JUNO nomination and multiple East Coast Music Awards and Music Nova Scotia Awards.