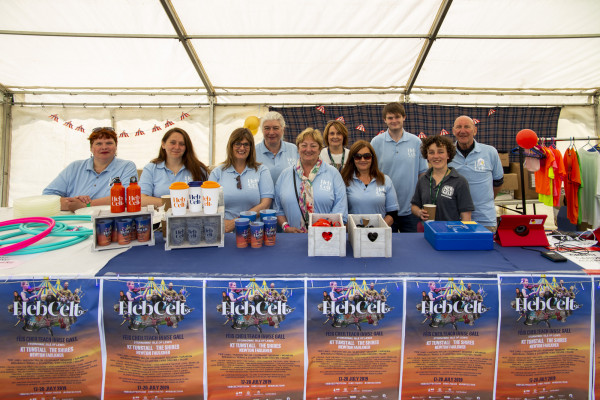 Volunteering at HebCelt is a core part of the festival's heartbeat and history. It has been so important for many individuals over the years with volunteers having enjoyed the camaraderie of the festival family, making lifelong friends as well as enjoying giving something back to the community.
Without the festival for the last two years has of course meant that many have missed out on this exciting and rewarding experience, which is why for the festival team opening volunteer applications for this year's event is such a milestone in the bounce back for HebCelt, and we are very excited!
HebCelt relies on volunteers for much of the effort that goes into making it the event work, whether it is the teams on duty from Thursday and welcome ticket holders to the events, or volunteers that are here for the two or three weeks before and after the event to help with build and take down, or those volunteers that work all year round to make sure HebCelt happens – we honestly could not make HebCelt happen without volunteers.
However, it is not all about us, volunteering is good for you. Volunteering is linked to better physical, mental and emotional health. It is an opportunity to meet new people, make new friends and feel more socially connected all of which can reduce stress, depression and isolation. It can also help overcome anxiety, build confidence and give you a sense of purpose – all which we know are good for our long-term health. Volunteering is also a great way to give something back and contribute to a community, but it is also a good way to develop new skills or try something new to see if it is for you and it is something employers like to see on a CV. Volunteers have such a range of skills that we too can learn from them, and they often bring new ideas to us. For some volunteering at HebCelt can become a way of life as evidenced by the Trust board who manage the event. All the members of which were recruited through the festival volunteer cohort proving how this is such an important steppingstone to making a real difference for our community. HebCelt provides a range of quality volunteering opportunities which contributes hugely to the renowned high quality of the festival and the experience for our festival attendees. The full range of volunteering opportunities are listed here, rest assured there is something for everyone. Whether you enjoy interacting with people or working behind the scenes in a variety of very different areas or want to help contribute to the festivals green credentials there is an opportunity for you. So go and have a look at see what takes your interest.
Of course, volunteering at HebCelt isn't just about what you can give to the festival. The team behind the event also recognise your input by making sure you are suitably rewarded. Most importantly we offer all volunteers free access to the arena events when you are not working, so you can enjoy the festival in your down time. You will also get a free HebCelt volunteer shirt, discount on most official festival merchandise and for those from off island, camping rates at the local camping ground, as well as our deepest gratitude and some very happy memories! To find out more details about what is expected of volunteers and what you will receive in return please go to the volunteer page.
Our volunteers are such a key part of the festival, we really could not do it without you! So please go and have a look at the opportunities and sign up as soon as possible. To our returning volunteers we can't wait to welcome you back, and for those that will be joining us for the first time we look forward to making new friends - now is your opportunity to get on board …..we'd love to hear from you.