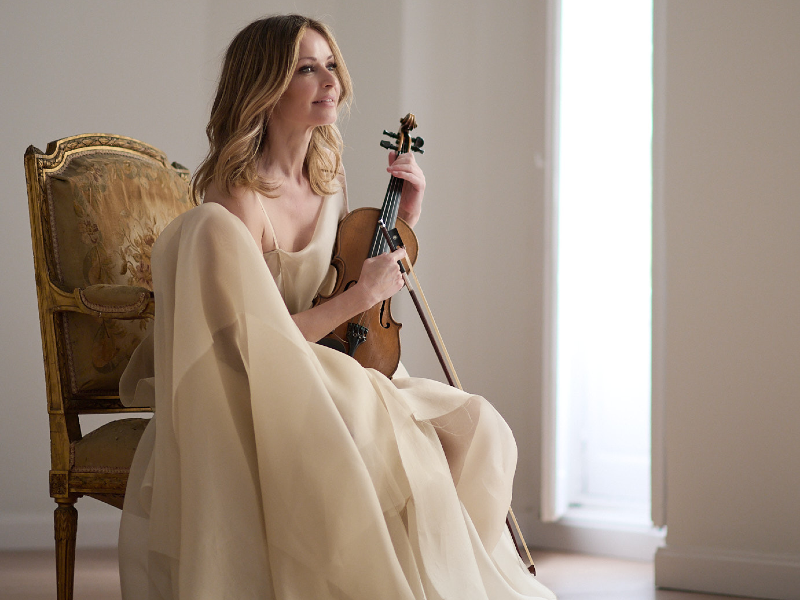 Sharon Corr – Grammy Nominee/Brit Award Winner, singer/songwriter and violinist - hugely successful both as a member of legendary Irish group The Corrs and as a solo artist
Much has been written about the incredible talent for melodies The Corrs exhibited throughout their long career. Their unique blend of Celtic/Pop/Rock sold over 45 million albums. They toured arenas and stadiums across the globe. With a string of massively successful albums and singles played to this day like Runaway, "So Young", "Radio", "Breathless", The Corrs have been a household name on every continent.
"Music is what makes me tick" says Sharon "it is simply who I am and what I do" and true to that when The Corrs took time off to focus on their growing families, Sharon - while raising her own family - began her solo journey enjoying the freedom of total artistic expression. In 2010 she released her self-penned first solo album "Dream Of You" a collection of beautifully crafted, melodic gems, a remarkable debut that demands to be listened to in full – each story and melody flowing seamlessly into the next. Her second solo album titled "The Same Sun" was quite a departure from the debut "Dream Of You". Produced by legendary producer Mitchell Froom and recorded in LA - the Melodies are still flowing but the sound is much more stripped back and organic - allowing Sharon to sing from the heart directly to her listeners, creating an incredibly intimate setting and removing the boundaries of over production. She has drawn her influences from the magical songwriting of the Late 60's early 70's all the way through to today. The album feels both contemporary and retro at the same time with moving lyrics, some of them inspired by life-changing experiences, like her trip to Tanzania with OXFAM Ireland providing that honesty known to Sharon's fans all over the world. Just like life itself the album is bitter-sweet in mood but the melancholy remains unpretentious and balanced. It is raw, unguarded, emotional and playful
2021 marked the release of Sharon's third solo album "The Fool & The Scorpion". Driven by songwriting greats such as Nick Drake and Joni Mitchell, Sharon drew from a period of time she calls "the biggest storm of her life" for the album's inspiration. As a result, the record is a cohesive body of work; a journey which centres on the desire to push on, to have faith and belief in yourself and your purpose. The 10-track album was recorded live in just 20 days at The Village in LA, with Larry Klein (Norah Jones, Tracy Chapman, Joni Mitchell) as producer. The album's musicality highlights Sharon's accomplishments as a multi-instrumentalist with over 30 years of songwriting behind her.
Sharon's solo live shows have not only had great reviews but inspired and allowed her to blossom holding center stage which she describes as an incredibly powerful and fulfilling experience "I come alive on stage – it's the only place where I feel totally and utterly myself! I love it!" Combining her solo repertoire with some of The Corrs hits she wrote and some traditional pieces - the set has the audience up on their feet almost from the start. In 2022 she toured supporting Jeff Beck on his UK dates as well as playing her solo shows in Europe.
In addition to singing Sharon has for 2 seasons been a coach on the hugely successful talent show "The Voice" in Ireland which gave her a unique opportunity to share her experience and knowledge of music and the industry with her chosen contestants.