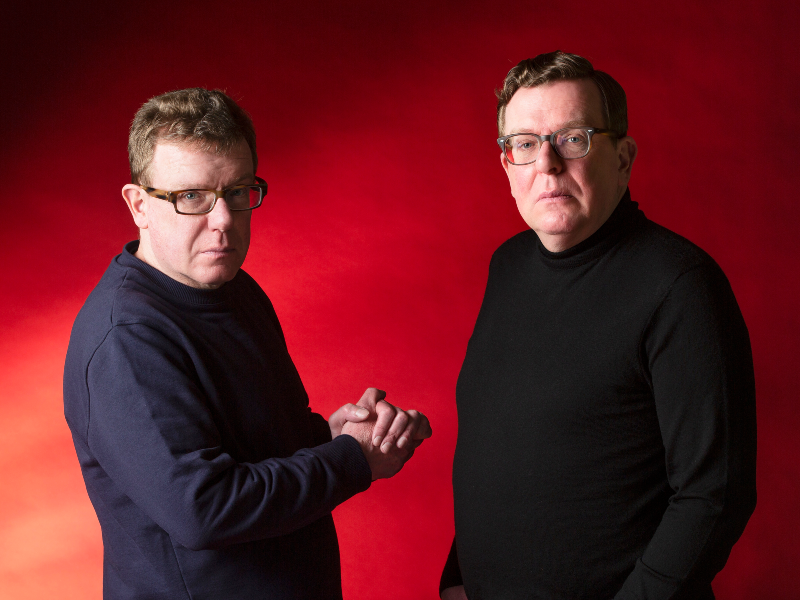 After abandoning plans for a 2021 release/tour, 2022 has seen The Proclaimers recording their 12th studio album at the legendary Rockfield Studios in Wales with producer Dave Eringa. The album 'Dentures Out' was released in September.
They kicked of a 14-month World tour in June followed by a series of summer festivals and regional concerts. October to December sees The Proclaimers embark upon their biggest and most successful sell out 35 date UK & Ireland tour.
2023 will see The Proclaimers touring Australia and New Zealand followed by summer shows and festivals in the UK.
2018 had seen their 'Angry Cyclist' album released to immense acclaim, with a tour which began in July 2018 and ended in September 2019, 111 shows in 14 countries to over 400,0000 people. The tour began in Stroud, England and ended at The Hydro in Glasgow and included their biggest ever tours of Scotland, England, Canada, New Zealand and Australia and notably in June 2019, The Proclaimers opened The Pyramid Stage for their 7th appearance at Glastonbury. The Proclaimers July 2019 Edinburgh Castle concert sold out in just under 10 minutes with Castle Concerts reporting this as the fastest sell out in their 25-year history. A second show at Edinburgh Castle was added, this show also sold out within 24 hours, which Castle Concerts are also reporting as never before seen demand.
Strikingly individual, twin brothers Craig and Charlie Reid emerged 31 years ago with their debut album This Is The Story and Top 3 single 'Letter from America'. Since then their enduring appeal across generations has have over the years seen them enjoy huge success across the globe.
The Proclaimers songs are timeless, capturing a gamut of human emotions, written with poignancy, emotional honesty, political fire and wit. Their songs feature at weddings, funerals and everything in-between and there is one song, an early celebration of falling head over heels in love that is known the world over and has become a staggering global anthem. There are many others that have gained great popularity in different parts of the planet and then there is a wide cross section of sublime songs embraced by a multitude that has kept up with The Proclaimers studio albums, compilation collections and extensive touring over three decades