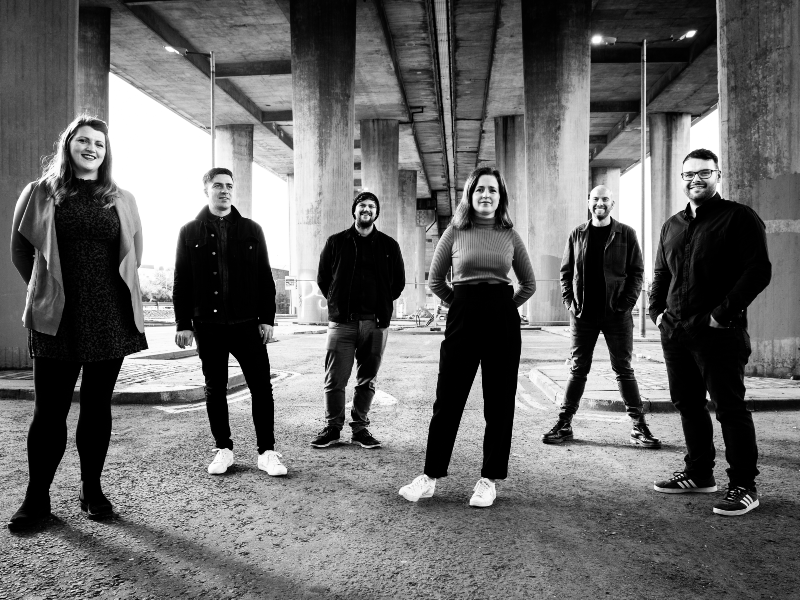 Niteworks are Innes Strachan (Synth/Keys), Allan MacDonald (Pipes), Christopher Nicolson (Bass) and Ruairidh Graham (Drums). Childhood friends and long-term fellow musicians from the Isle of Skye, Niteworks blur the lines between Scottish traditional, folk and Gaelic music with contemporary electronica, creating a unique and exhilarating sound.
The band have released two albums, NW and Air Fàir an Là, both to critical acclaim - with the latter gaining a spot on the longlist for Scottish Album of the Year. Well known for their incredible collaborations (Julie Fowlis, Kathleen MacInnes, SIAN) and forward- thinking sound, the band are at the forefront of the new wave of Scottish traditional and Gaelic artists that are 'redefining trad music' (The National newspaper).
Live, their spellbinding audio / visual show enlists musical collaborations and visual spectacles which have won them legions of fans and perform at venues across the UK including a sold out show at the infamous Barrowlands in Glasgow. Festival appearances have included Celtic Connections, Hebridean Celtic Festival, Cambridge Folk Festival, Skye Live Festival, Rudolstadt Germany and The Rainforest World Music Festival in Borneo.
The band is also much sought after for their experience with music commissions for high profile national events. In 2018 they created a bespoke score for Edinburgh's Hogmanay fireworks display in collaboration with BAFTA Award winning composer Dan Jones and the BBC National Orchestra of Wales. They produced the music for Castle of Light, a six week event for 80K visitors installed at Scotland's premier historical attraction, Edinburgh Castle. More recently the band joined with Edinburgh's Hogmanay again to create a soundtrack for their 'Fare Well' video project. Featuring a spectacular drone display set to words by Jackie Kay, the Scottish Makar, the project was a huge success with over six million views of the video globally.
In 2022 the band released their third album A' Ghrian to critical acclaim, reaching the shortlist for Scottish Album of the Year 2022. Their subsequent UK tour saw sold out dates across the board - including a special collaborative show with composer John Logan and the BBC Scottish Symphony Orchestra performed at the Glasgow Royal Concert Hall and broadcast across the BBC.