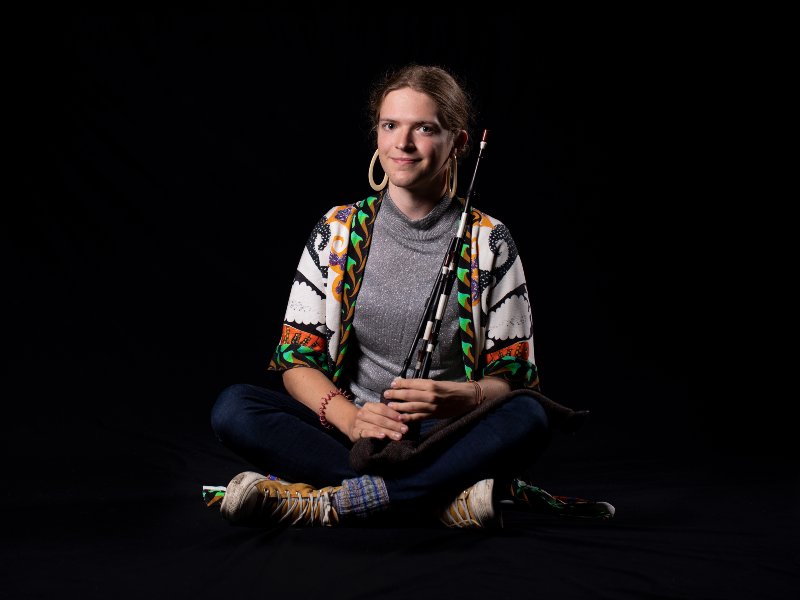 Effervescent folk played on fiddle, bouzouki and a newly invented bagpipe. Hair tingling, heart-wrenching and dance inducing melodies inspired by European folk traditions, humans, queerness and the universe.
Malin Makes Music is the band of composer, instrument maker, Musical Director, bagpiper and fiddle player Malin Lewis (BBC Young traditional musician of the year finalist 2022).
Malin premiered their New Voices commission 'Halocline' with a seven piece band at Celtic Connections 2023 to a sold out Strathclyde Suite, Royal Concert Hall. Named for the layer between salt and fresh water, halocline is a sequence of compositions reflecting on the liminal spaces between Malin's outer and inner worlds.
Recently Malin has been touring the UK with Making Tracks international Residency, Recording film music in Berlin, studying folk music in Helsinki and learning the tradition of the extinct Finnish Bagpipes as well as writing and performing music for 'The strange Undoing of Prudencia Hart' at the Royal Exchange Theatre, Manchester.
Malin plays a set of unique self-made two octave Smallpipes that help create their unique sounds. Malin Makes Music will perform music from Halocline as well as traditional music from Finland, Karelia and Bulgaria.
Their sound has been described as 'Beautiful and raw' and 'a breath of fresh air'.