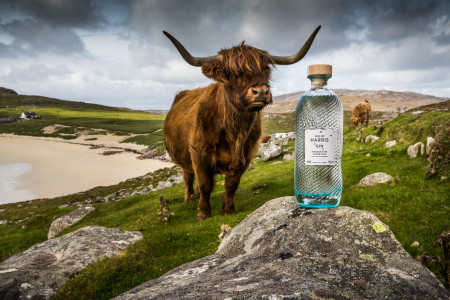 The latest update from HebCelt HQ is making us all thirsty!
We are so excited as a team to be raising a toast to the Isle of Harris Distillery as we officially name them as our Acoustic Stage sponsors and launch the Isle of Harris Gin Cèilidh Tent. The teams at HebCelt and at the Isle of Harris of Gin Distiller both feel strongly about being a catalyst for positive change in our island communities so teaming up feels like such a natural and exciting partnership.
Celebrating the unique cultural identity of the Hebrides is at the heart of everything we stand for and having met with the distillery team last year, we quickly realised just how closely our values and vision align and it wasn't long before we were hatching plans to collaborate!
At HebCelt we're always wanting to find new, innovative ways of doing things and making new connections which will benefit the thousands of visitors that come to see us from all over the world. The Isle of Harris Gin Cèilidh Tent does just that. The Isle of Harris Distillery is known as The Social Distillery and is all about connecting with and championing the local community and all that it has to offer.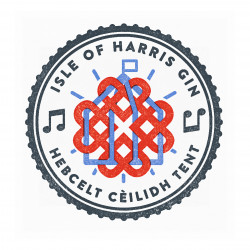 Bringing all that together with the essential ingredients for a right good ceilidh – good company, good music and of course, good drink! – it feels like the perfect spirit and mixer combo.
We'll have a very special Isle of Harris Gin cocktail bar sitting alongside the incredible music coming from the stage. There will be a selection of fresh summer cocktails made with Isle of Harris Gin on offer, or people can get their hands on a classic tipple of Isle of Harris Gin & Tonic. We'll certainly be first in line to give those a try!
In fact, with a record number of bars and food stalls this year, and so much quality on offer, there really will be something for everyone and it will be wonderful to see so much incredible Scottish food and drink showcased.
The Isle of Harris Gin Cèilidh Tent is going to be chock-a-block with talent to enjoy while visitors sip on their summer cocktails. The likes of Abigail Pryde and Michael McGovern are both incredible emerging artists, while Carnán will be sure to create a wonderful ceilidh atmosphere on the Friday evening. Appearing on the Saturday is Welsh language singer Gwilym Bowen Rhys who is very special indeed, while Scottish piper Malin Lewis is one that's not to be missed.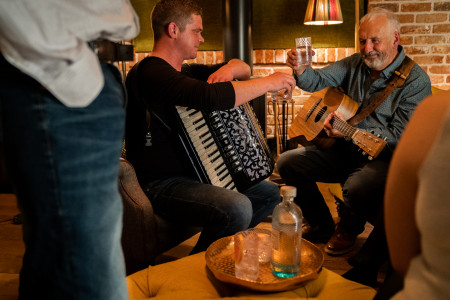 We're really excited that the bar itself is being built locally – to see it all come together will be a great feeling.
Let's hope this is the start of an exciting long-standing Hebridean friendship… let the festivities be-gin!
Slàinte mhath HebCelt!