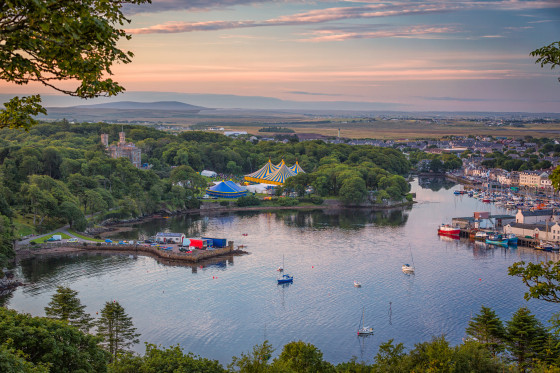 Beloved international music festival HebCelt enjoyed recorded attendance figures in 2022, and brought a £4.2 million boost to the Lewis economy – doubling its economic impact since 2018 – it has been revealed.
Held between 13th – 16th July 2022, the first full scale live event in three years recorded a staggering attendance of 18,540 – 4% more than in 2019 – with loyal fans from around the world keen to soak up the special combination of exceptional music, breathtaking scenery and Celtic and Gaelic culture on offer. According to The Hebridean Celtic Festival 2022: Visitor Survey and Economic Impact Report, carried out by MKA Economics, more than 7,500 individual guests are thought to have attended more than one event over the course of the festival's four days. A mixture of locals and tourists got involved, including 21% who were visiting Lewis and Harris for the first time.
Visitors to the 2022 event spent £1,104 on average over the course of their stay – an 84% increase from the £600 average spend in 2018 – with a large portion, 78% of this, going directly into the local economy. The festival's resulting total contribution to the island's economy is estimated to be the equivalent of safeguarding 62 tourism related jobs. The report also found 2022 audiences extended their trip outwith the duration of the festival, staying for 6.8 days on average. Many also used the event as an opportunity to connect with a community they hold dear, with 45% coinciding their festival visit to see friends and family. HebCelt has well and truly bounced back from the pandemic, with tickets for the 2022 edition selling out in record time and 2023 early bird passes following suit.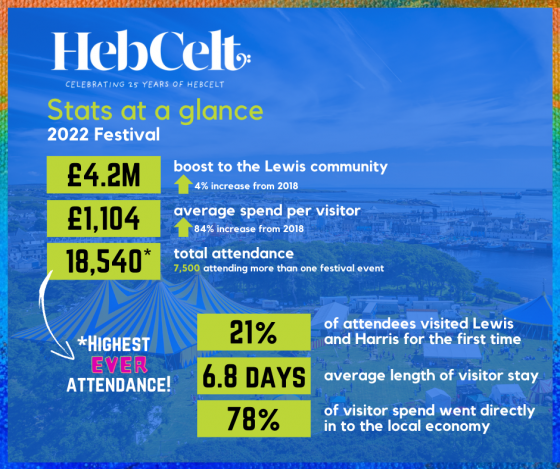 Loyal Hebridean audiences and music fans from far flung locations, including Canada and New Zealand, jumped at the chance to attend next year's festival. HebCelt Festival Director, Graham MacCallum, said:
"We are always humbled by our audiences' passion and unwavering support so to know that record numbers chose to come in their thousands to join us this summer for our 25th anniversary celebrations means an awful lot. It is extremely promising to see the far-reaching economic impact that HebCelt 2022 has had on Lewis and the Hebrides. It's so important to us that as a festival we make a positive contribution to the place we call home and to see the event once again act as a catalyst for people to visit this special part of Scotland is just fantastic. This coupled with the boost for nearby businesses and our success in promoting Celtic music and culture on an international stage, really shows just how important festivals like ours are. "We are well into our plans for 2023 and are now working towards July with renewed vigour and positivity, inspired by the knowledge that the cultural and economic importance of our event to the Hebrides and Scotland continues to grow."
Next year's HebCelt will take place 12-15 July 2023.
For the latest news on 2023 ticket release, sign up to the festival mailing list: www.hebceltfest.com/mailing-list/
HebCelt is supported by Creative Scotland, EventScotland and Comhairle nan Eilean Siar.